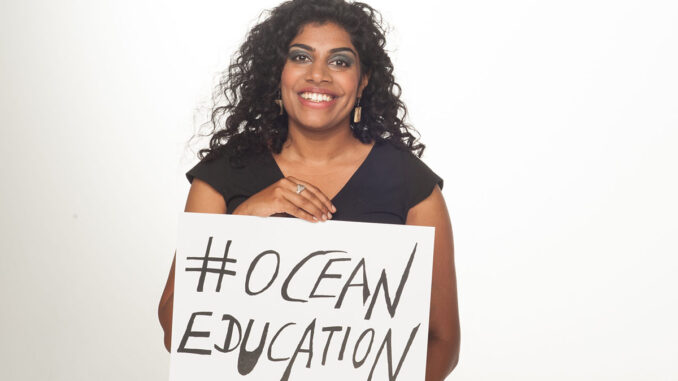 Autor:
FTinternational
Interview with activist Tharaka Sriram
Tharaka Sriram, currently at home in Offenbach, has found the Ocean Education initiative in 2015 – where she inspires people for Marine Protected Areas. She is also the Blue Parks Ambassador for the Marine Conservation Institute. The protection of the world's oceans is her calling. But as an activist she also fights for women's rights. Style & the gang talked to her about role models, motivations and fashion.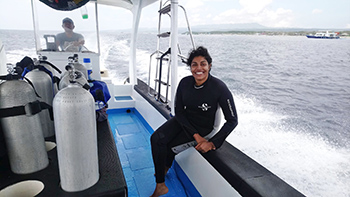 Are there people who have had a lasting impact on you in your work?
"Oh yes there is! On the one hand there is Silvia Earl. Born in 1935, she is an environmentalist and oceanographer. Among other things, she has worked for the renowned NOAA, including National Geographic, she has asserted herself as a woman, done real pioneering work in an environment dominating by men. It is not for nothing that she is called 'Queen of the Deep' or 'Her Deepness'. I was able to meet her in 2016 at a conference in Canada. It is really unbelievable how much energy for actions her personality exudes. I even had a real fan moment: when I was still thinking about whether I should pursue marine conservation full-time, she told me to listen to my heart. Another person who has shaped me can be found in Satish Kumar. He was born in 1936, was a monk following Gandhi's example and has always been a peace activist. He became popular for his Peace Walk, for which he traveled from New Delhi to Washington D.C. in 1973 to demonstrate against nuclear power. I attended his college in Totnes, England, and was impressed by the independent lifestyles that are shown there. Aspects like cultivating own food and making own clothes were also an issue there. I've thought about that and consumption in general a lot. I was inspired by the initiative to share experience and knowledge with others through an organization and to stand for the cause as a founder."
Women's rights are a major concern for you. Tell us more…
"The root lies in the experiences that I have gained in my family, we are Tamils from Sri Lanka. I have younger brothers and my parents are particularly conservative. I was always given a very traditional image of women, which puts an emphasis on the existence of women as mother and wife. For example, as a girl I wasn't allowed to laugh out loud. But over the years I emancipated myself through books. I devoured all the reading material, especially non-fiction books on all kinds of subjects. I learned that there were other women in other cultures who had experiences similar to mine. Rights must be fought for and defended. There are still setbacks, especially in 2020, which you can see for example in Poland and the abortion law, you always have to stick with it."
Let's be naive – do you think the world will change one day?
"I can't tell. It's more about the question of what you can contribute to change the world. You can't change other people if you don't change yourself. You have to be authentic, live your attitudes. I am committed to marine protection and especially marine protected areas, because I think that all beings on this planet have a right to freedom and protection. People take themselves far too seriously. The human being thinks he can manipulate all things, but actually he can only change certain things. The system is so complex, and you can't solve everything with money and technology. Men have to understand that they destroy with their toxic behavior. Less consumption, more minimalist mindsets. In addition, values must be valued by fair cooperations. There is no place for sexism and racism. There should be equal opportunities for all. And to work on this, you have to give those a voice who don't have a voice."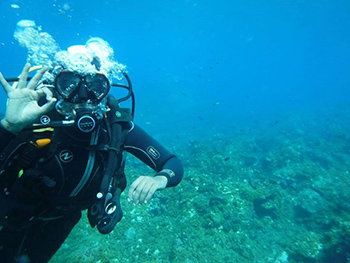 Minimalism and less consumption are also an important issue in our industry. How do you feel about fashion?
"I'm more about style than fashion. I think clothing is certainly more than just a functional shell. I like bright colors, timeless cuts and unusual patterns. Vintage and second-hand fashion and jewelry are particularly important to me. It's a shame that mostly anonymous mass-produced goods that are easy replaceable are offered in all the shops. In my opinion, women should be even more of an example to men. Because I think men have a better eye for quality, they don't squeeze into things that don't fit properly, and they have a very healthy, self-confident relationship to clothing. In any case, you can always reinvent yourself through clothing, lighten your mood, but it is also about respect and identity. When I was still working in youth welfare services, I worked with young refugees. They didn't have a lot of money and wandered the shops for hours. At the end of the day they were able to find a few pieces for themselves and put on a fashion show in the living group. It was very nice to see. They were proud, felt like "normal" young people, not excluded or different based on their origin or life story. Clothes that are clean and tidy and that you feel comfortable in are important for the feeling with which you go out into the world every morning, for your own self-confidence and identity."
www.instagram.com/oe_oceaneducation/
Style & the Gang X FASHIONTODAY MEN
We cooperate! This article was written in cooperation with the international platform for ethical fashion www.styleandthegang.com. Whether from Tokyo, Kilifi, Barcelona or Bali – on their website the editors Tays Jennifer Köper-Kelemen and Nina Elyas present unusual, socially committed and ethical fashion brands with cross-cultural concepts from all over the world. Curated designers tell their stories of craftsmanship, and what it means to create fashion with added value.