High quality, durable, stylish and affordable. We introduce five menswear brands who produce fair and ethical fashion and offer garments for every budget and every style. Basics? Outerwear? Individual statement pieces or streetwear styles? All this is available – from independent labels that have either set up their own manufacturing facilities or cooperate with local family businesses. All selected brands tell their own authentic story.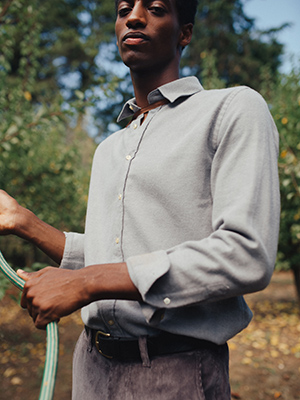 ISTO.
The sustainable brand focuses on luxury essentials and a transparent, fair production in Portugal. ISTO. does not rely on seasonal collections. It's more about everyday clothing that meets everyday needs. There is one collection that is, at best, permanently available.
ISTO. is constantly refining fashion items – until the feeling arises that they are perfectly made! The brand shows complete transparency. Consumers can see exactly how much they paid for each and every component – from materials to production.
LangerChen
Ethically and sustainably made in China? Does that exist? Yes, it does. The Chinese-German Brand LangerChen stands for fair and conscious Eco Outerwear since 2013. Timeless looks, sustainable materials and high functionality materials characterize their collections. Find urban parkas, vests, jackets, coats and beanies in excellent qualities!
"Made in China" does not necessarily have to do with mass production or bad working conditions! The two founders of LangerChen are Miranda Chen and Philipp Langer. They jointly founded the fair and environmentally friendly Jiecco textile factory in China before they decided to start their own outerwear label five years later.
Phil & Lui
Produced in Portugal and 100 % sustainable. The high-quality basics of exclusive fabrics are carefully manufactured in a small family business. The brand is working according to the guidelines of the GOTS seal along the entire supply chain. Super soft fabrics are knitted to cozy jersey and sweat fabrics. Phil & Lui are two nature lovers and adventurers, who gave up their conventional life to live in a tent on a Greek island and traveling around in a van. Make sure to check out their Instagram to find out more about their extraordinary fashion label on four wheels!
Also discover the adventure stories of the two founders who emigrated to Greece together with their dog and their van Dalí!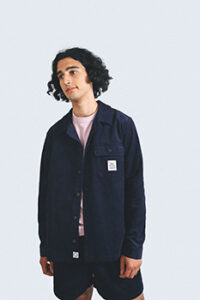 Howlin'
Belgium brand Howlin' makes a valuable contribution to the preservation of the craft of knitting. Their quantities are small and produced with great attention to detail, the employees work under good conditions and are well-paid. The summer collections consist of lighter knitwear, jersey and terry garments. The winter collections feature heavier knits made in Scotland and Ireland. Small is beautiful! Howlin' tells the story of two brothers. Their family has been producing quality knitwear in Scotland since 1981. Jan and Patrick Olyslager adopted the traditional manufacturing method, but enriched their brand with fantasy shapes and patterns.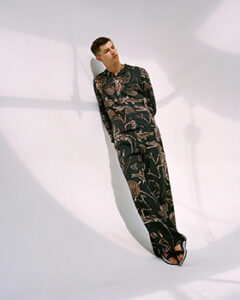 Local Pattern
A quirky approach to the modern wardrobe! The style of the Spanish brand Local Pattern refers to streetwear sensibility and plays with sarcasm. The original and creative prints are hand-painted or sketched artworks. They are created in-house and in collaboration with local artists. The clothing is designed and sustainably manufactured in limited editions in Barcelona. Local Pattern is an art project by Josep Moya. His passion for the beauty of elaborated prints and the rejection of wasteful fashion encouraged him to leave his safe life and venture into creating a contemporary clothing brand that shows his ethics and character.
Style & the Gang X FASHIONTODAY MEN
We cooperate! This article was written in cooperation with the international platform for ethical fashion www.styleandthegang.com. Whether from Tokyo, Kilifi, Barcelona or Bali – on their website the editors Tays Jennifer Köper-Kelemen and Nina Elyas present unusual, socially committed and ethical fashion brands with cross-cultural concepts from all over the world. Curated designers tell their stories of craftsmanship, and what it means to create fashion with added value.